Air Conditioning Servicing London:
| From: £99.00 inc VAT | Airconditioning Servicing |
| --- | --- |
Air Conditioning Servicing at Efficient Home Energy
Our team of expert engineers at Efficient Home Energy, specialise in comprehensive air conditioning solutions, from maintenance and repairs, to installation, for commercial and domestic properties in the London area. We offer prompt and efficient assessments and resolutions that guarantee customer satisfaction.
With years of experience under our belt, we're confident in our abilities to bring you unrivalled air conditioning maintenance and installation, with a promise of high-quality expertise, at competitive prices.
We pledge to tackle your maintenance and installation requirements as swiftly and efficiently as possible, leaving you with a fully optimised and operational unit that works like a dream.
Air Conditioning Installation London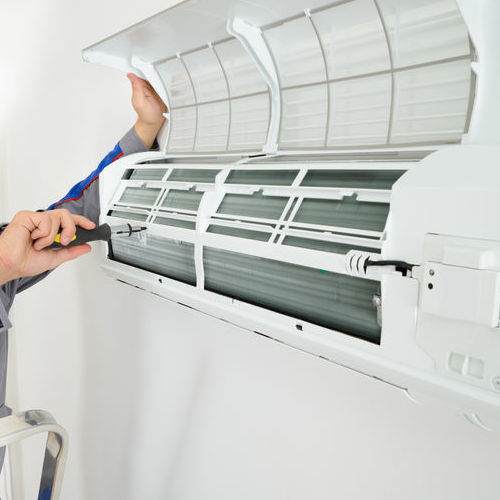 The initial stage of any AC installation is a free site survey if it's required to take measurements and be sure of the correct design of unit will be both beneficial and suitable for the property. Our expert installer will then provide the office with the relevant information regarding the installation requirements and from here you will receive your bespoke quotation.
Once a quotation has been accepted we can begin to plan the next steps. We'd agree to a time and date to gain access, suitable to your needs as a homeowner or as a business owner. This is inclusive of the outdoor location for the exterior unit. We would ensure that there is adequate space outside of the property for this portion of the installation. It needs to be easily accessible for maintenance purposes but also placement slightly above ground level is important to prevent damage from adverse weather conditions or animals.
At Efficient Home Energy, we understand that every air conditioning installation is unique – from positioning of the unit, to varying models and calibration. This is why our team of experts are trained to facilitate in all manner of services and solutions, no matter the model or size, and will install your unit with the least amount of disruption, leaving your premises clean and tidy. Offering a professional installation for both domestic and commercial customers, we take into consideration the requirements of every customer to make sure we provide the correct and most beneficial for the space they are looking to have their new AC unit installed. We take pride in the service we provide, making sure you don't just take our word for it but you understand the choices and how they would be applicable to your property.
We recognise that not all spaces are the same. Each given area will have a variety of unique requirements based on size and purpose, whether it's a large office space or a small service room. Multiple factors exist when choosing the right air conditioning solution, and at Efficient Home Energy, we'll always be on hand to advice and install the right air conditioning system that meets your needs, for balanced heating and cooling control.
After we have completed the installation for your brand new air conditioning unit we ensure that we provide you with a demonstration of how to correctly operate and maintain the general upkeep of the system. Our engineers will be on hand to clarify anything that you are unsure of and leave you with peace of mind.
Servicing and Maintenance
We highly recommend that your air conditioning units are regularly maintained and serviced, to ensure optimum air control, at all times.
Working to the highest standard every time, we're fully equipped to cater to all types of systems. We will visit your premises and provide a full health-check of your units, as well as servicing and replacing any parts that may be affecting performance.
There's no doubt that the lifespan of your units depends on the maintenance it receives. Neglect of your systems may result in unwanted issues, hindering peak performance and more importantly, have unwanted effects on energy bills.
Signs Your Air Conditioning Could Be in Need of Servicing
Under performing heating or cooling, restricted airflow, unpleasant smells and unwanted noise are all signs that your air conditioning system may need servicing, and we advise to have it looked at ASAP.
FAQ's
How does air conditioning work?
An air conditioning unit works by removing the unwanted heat from an area in a property and replaces it with cooler, dry air. There is a chemical inside the unit that will cool the air on the way in and works the opposite way for heating the property.
Can i fit my air conditioning unit myself?
We never recommend that an installation is carried out by someone without the correct qualifications to do so. All of our engineers are qualified, competent and capable of such installations leaving you with peace of mind that everything will be installed safely and to regulation.
Can my air conditioning unit be used to heat my house?
The simple answer is yes. The units we sell will have the ability to both heat and cool a property in most circumstances.
Do I need planning permission to install my air conditioning units?
As a rule, it is very unlikely that you would need to apply for planning permission to have an AC unit installed in your domestic property. We would recommend you check with your local planning authority to be sure before commencing an installation however.
Do I need to do anything before the installer arrives?
We kindly ask that you clear all areas related to where the installation will take place. This is inclusive of the area surrounding the wall where the interior unit will be fitted and also on the exterior where the external one will also be installed. This will allow the engineer to begin the works from the point of arrival, keeping the installation swift and efficient. We ask that you take these measures not only for the engineers sake but we also would like to make sure if there any valuables inside that they remain safe and undamaged.
Contact us on 02034881899